I cant believe it has been a year since you had your last birthday. So many things had happened since then, and Im happy that I was with you since then!
More than anything else, I wish you ALL the GOOD THINGS you must have, because you totally deserve it!
I WISH YOU...
SUCCESS, especially in your upcoming COMEBACK. We HENECIANS, will be here every step of the way as you continue to improve and nurture yourself as well as your talents!
Second, I wish you HEALTH. The past year was indeed the HARDEST and BUSIEST in your career, and still you managed to go to school. Be healthy so you can do more, ok Hyun Joong?
Lastly, I wish you HAPPINESS. I know SUCCESS comes with HAPPINESS too, but sometimes it does not. So I wish you HAPPINESS overall in your life. And that includes your love life! Yes, I love you Hyun Joong with all my life, but I want you to be happy too in that field, and I accepted the fact that it would not be me. (LOL)
THANK YOU....
For the happiness you gave us, all HENECIANS.
For being the TRUE, and HONEST 4d HUMAN being that you are.
For being a HANDSOME, HOT, SEXY, GORGEOUS, CUTE Guy that you are.
For being the charismatic, thoughtful and humble IDOL we have. You always think of us your fans, and for that we are happy...
But most of all... THANK YOU...
FOR EXISTING. Just the mere presence of you is enough to make us all HAPPY. And with that, we assure you, we will be with you every step of the way. It wont be easy. In face, IT WASN'T ALWAYS EASY WHEN IT COMES TO YOU. But we will be strong, cause we know you are strong.
Continue to be the KIM HYUN JOONG that YOU ARE.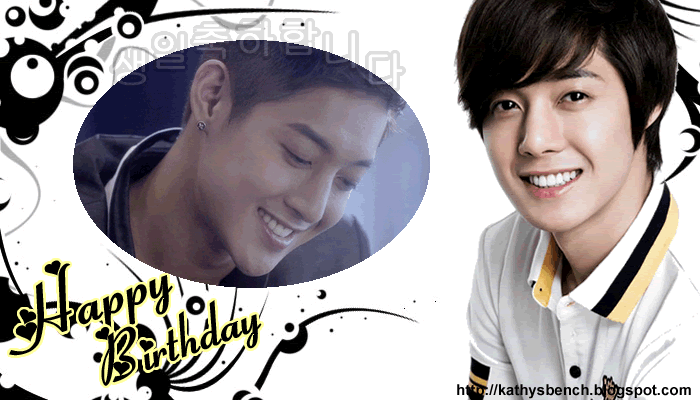 HAPPY BIRTHDAY KIM HYUN JOONG!!!!
From, Kathy